by
Lady Rukiara
in May 08,2014
Miniatures, one of the rather controversial topics in tabletop. Between player to player some find they are useful, some find them pointless, and others find a balance. Though when 4E initially came out many gamers were upset that it felt like an MMO rather than a tabletop game, many upset at the focus on miniatures, and others were gleeful to hoard more miniatures onto their shelves. One thing is true regardless, they can be pretty badass looking. Finding the perfect balance in miniatures can be done, and gamers continue to prove that it is not an outdated thing, and one of the ways is by a recent company being kickstarted into life: Creature Caster.
Though only havnig 3 days left the project has over 1,000 backers and and has earned 250,500 + CAD out of their 30,000 CAD goal. (Yes, canadian money!) The miniatures and designs are breath taking, it is no wonder to hear that he had a previous company and used some of the profit to go to schooling to improve his sculptures, and it shows. From badass dragons, to mascular demons, and slinky succubi every detail is an immaculate.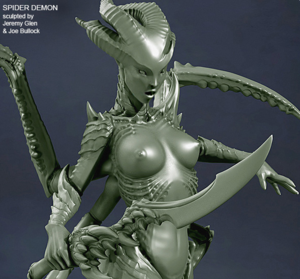 At a donation of 65 CAD (About $60 USD) you will get the early bird special, which lets you receive and pick out a model on the "Bronze Level", obviously, adding a bit more money increases your level and what you can choose. Along with free and optional gifts that are included. Though not much to talk about on these, the art and pictures kind of speak for themselves. I would say to check them out though. 3 days remaining so you better act fast! Visit their Kickstarter. Or check out their website. And their facebook.