by
Lady Rukiara
in May 21,2014
There is a lot of controversy surrounding games sometimes, but more and more studies continue to come out showing that games have their benefits. Everything within its moderation. Get Well Gamers is a charity that is donating to childrens hospital in order to help our youngest of gamers have another avenue to help get their mind off of pain.
They have organizations based in both the US and the UK, and accept any size donation from classic games and consoles to Last Gen, as well as any size donation via paypal. Check them out at GetWellGamers.org or the UK site at GetWellGamers.Org.Uk The picture below is A sick child playing Mario Kart 64 in a hospital in New Mexico. This was made possible by get well gamers.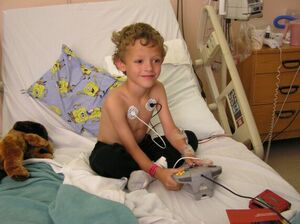 **** LONDON, U.K. May 21, 204-British Charity Get-Well Gamers UK and London-based games developer Mediatonic have teamed up to provide a south London hospital with a bumper donation of video games and video game consoles. Get-Well Gamers UK (GWGUK) was founded in 2014 with the aim to bring electronic entertainment to young people in UK hospitals.
Video games are an effective and proven pain management tool and provide much needed entertainment during long hospital stays. Mediatonic Ltd held an internal office drive to gather donations for the charity, encouraging staff to bring in any unused games and consoles for donation.
That collection formed the basis for the donation, GWGUK's first. The two have agreed to make an annual donation to a UK hospital. The donation included a 32 inch HD TV, an Xbox 360, Playstation 3, PSP, Nintendo DS, a Gameboy Advance, and over 20 games across all consoles and handhelds. "We are delighted to have been able to provide St. George's hospital with such a mix of consoles and games," said GWGUK Director James Stewart. "Video games help children to cope better with their time in hospital - providing great entertainment and helping with pain management.
This donation would not have been possible if not for the efforts of the staff at Mediatonic Ltd. Their kind donations will bring hours of joy to the young patients in St. George and we are looking forward to working again with them in the future." "Knowing that our games and consoles have gone towards helping aid the recovery of children at St George's Hospital is a great feeling," said Ben Cox, Mediatonic Ltd office manager. "We're so happy to have helped Get-Well Gamers with their first donation and look forward to seeing the charity go from strength to strength." "We are very grateful for the great donation to the playroom.
It will really support the children by normalising their hospital stay," said Liz Lewington, Senior Play Specialist at St. George's Hospital. "It is a great distraction and loads of fun for the children who will be going through lots of medical procedures whilst being inpatients in the hospital." Lewington continued, "Being able to play on the consoles will also encourage the kids to socialise and meet other kids. It will also help to get the adolescents up out of bed to have hours of fun."