by
Lady Rukiara
in Mar 15,2016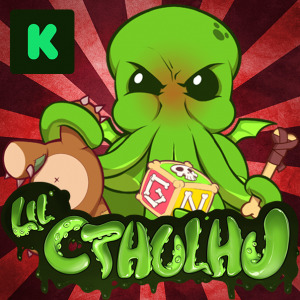 In Lil' Cthulhu, you are cultist Cthulhu. It's time to serve him by tending to his children.
This is a card game where you can backstab, twist, and manipulate. You must draw cards that are toys in order to appease the Lil' Cthulhu. You lose sanity through out the game, and you can only survive by collecting all the toys that Lil Cthulhu demands.
This game supports 2-5 players, and no one is your ally. If you happen to draw a Lil' Cthulhu throwing a tantrum, everyone is punished for it, and you lose all cards drawn in that round. Then, you still have to deal with the little baby of ultimate evil.
This game was created with the true spirit of Cthulhu in mind - in other words, making you feel helpless, like you can't win, and at the mercy of the ultimate evil. Vote Cthulhu 2016, folks! So not only are you at the mercy of the dark and macabre personality of Cthulhu, you must also heed to the demands of a small child who just HAS to get their own way. No time out corner for this baby, or you might just find yourself at the bottom of the deep dark plane of abyss. Good luck!
The Kickstarter is currently going and for only a mere $25 pledge you not only get the game, but the stretch goals. Pretty good deal if you ask us. The game is over half funded with 17 days to go, so get in there, and get your Cthulhu on.