by
Lady Rukiara
in Feb 03,2014
Mutant Chronicles is something many of you might remember from back in the early 1990's of gaming, it's setting in a sci-fi post-apocalyptic world filled with cyberpunk, horror, and many a big boiling pot of other genres fit into one amazing setting. This all takes place  in a world wrought with war and death, where the surfaces of all the inner planets have been entirely wiped clean by the violent hands of the Dark Legion. Well Modiphius plans on re-designing the rules as well as re-writing the settings, supplements, and adding brand new material to co-exist with the original storyline. Modiphius is known for expecting a lot out of their products, and so we can expect the same from their work. Just simply from the images you get a beautiful array of designs, layouts, artwork, and they are looking to transcribe that all into a hardcover book. Though their backers have had an enormous response, the more people who respond the more you can expect to see as with all kickstarter projects. [caption id="attachment_11558" align="aligncenter" width="660"]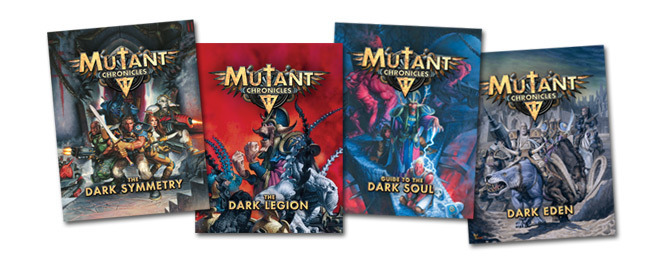 A mix of classic style art with a hint of modern badassery.[/caption] If any of you are familiar with Achtung! Cthulhu, then you've already got a good idea of the types of product these guys have to offer. Mutant Chronicles in the past has spawned multiple other off-shoots such as board games, a collectible card game,
and even a movie that we're not really going to talk about. 
[caption id="attachment_11557" align="alignleft" width="249"]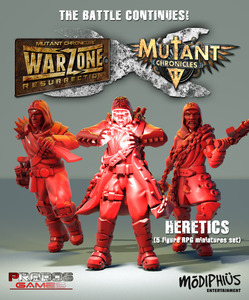 Seriously, I have a problem. I love these.[/caption] If they reach more of their goal then they'll even set people up with a printed GM's screen, and seriously I don't know what it is but I can't get enough GM screens as well as later on some miniatures. Looking through their kickstarter I saw so many pictures I could include in here but one of the ones I had to add was the miniatures. I mean, just 
look at them. Do it! 
Alright, sorry. I think I have a problem. There's so much I could say about this but their page is more than happily detailed with all of their ideas, basic settings, and their plans. So I'll leave you with their RPG Announcement video which features some stunning works of art, kickass background music, and I can't get enough of it. Also for those of you maybe still a little unsure or curious about more details, stay tuned because we will be doing a full blown review of the books and content as soon as it's ready for us. Until then guys Happy Gaming and may the gods imbue you with all the natural 20s you can handle. :D
Check out their kickstarter here. 
And Check out their website.