by
Lady Rukiara
in May 28,2016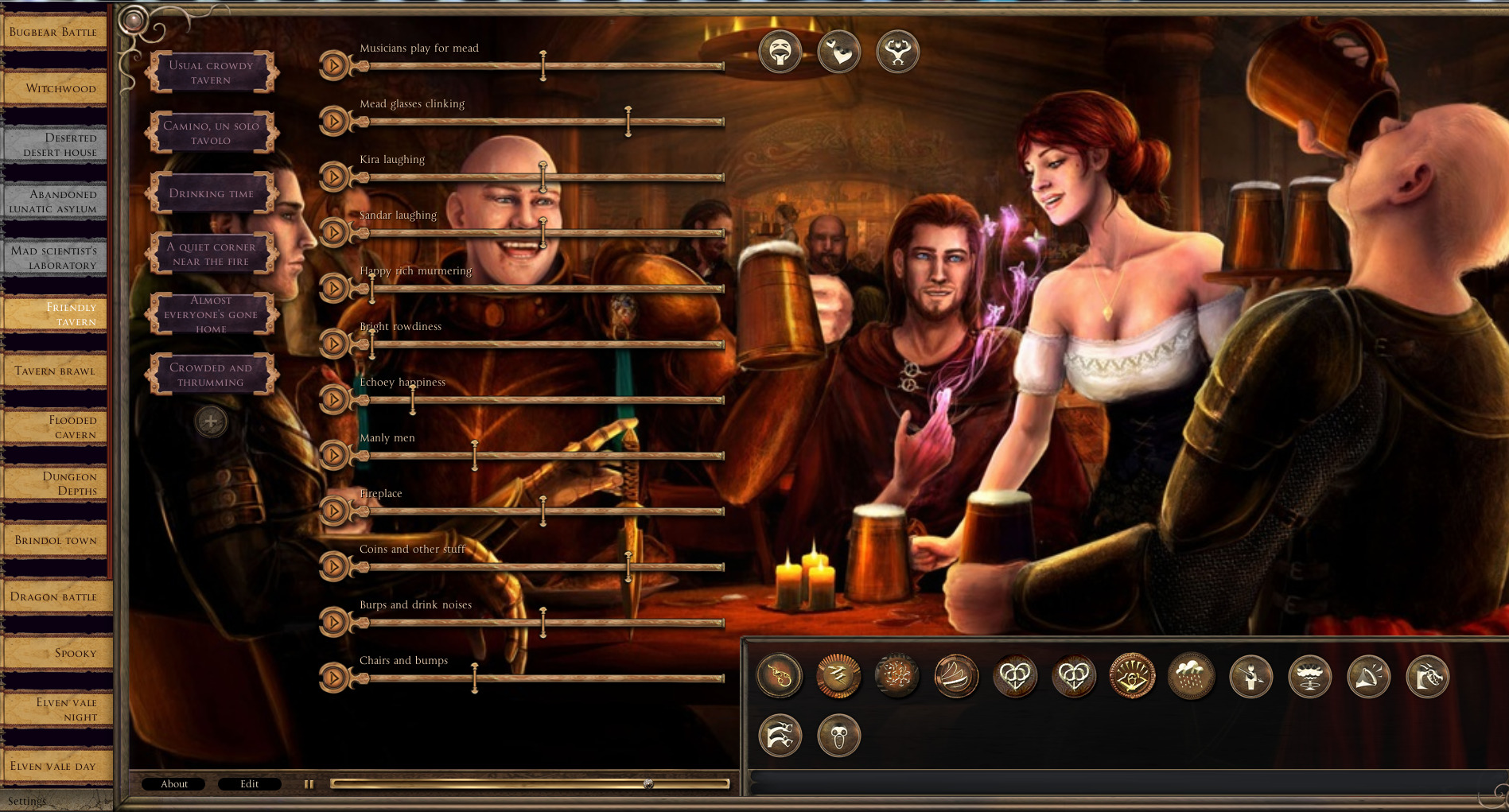 Hey adventurers! So some of you may already know or heard of Syrinscape, but if you don't it's a fantastic resource.
Now in my games we have our designated "DJ" who has hoards of music situated into different playlists for "creepy" "tavern" "Adventuring" "boss battle" "normal battle" so on and so forth, and this can be tedious as he's lost the playlists a few time and had to start over.
I can't tell him whats going on, so I just have to instruct "put on creepy" or "Give me a dungeonesque tone" and he will do so, and mind you, he's FANTASTIC at it, which is no problem, but Syrinscape takes that to another level that I'm really excited about.
If you know about Syrinscape, you can skip down to see it's new release, if you don't, well then hold onto your seats because I'm about to lay down some magic for you. Syrinscape takes it to a whole new level where you can individually choose various sounds and ambiance added to your game, such as in the tavern chairs bumping, glasses clinking, the fireplace, the minstrels playing, ambient sound tracks.
Sad music if your battle isn't going so well and defeat is on the horizon, and so much more. This is fantastic for me I'm all about ambiance and getting players as immersed as possible. I feel like I've been doing a disservice to my group not integrating this sooner. The layout is fantastic and has a beautiful theme, easy to use, and really, I'm just gushing at this point.
One of the best points for Pathfinder players is that they've teamed up so they have specific soundtracks geared towards the Pathfinder adventures. Though, if you're not a pathfinder player, there's still plenty of options for you! It's easiest if you take a look at it for yourself, below is information on where to look into it as well as its new song pack release.
Syrinscape, creator of the award-winning apps that put the power of custom, movie-like sound effects, soundscapes, and music at the fingertips of the gamer, releases today A Song of Silver SoundPack, the complete audio solution for the fourth chapter of the Pathfinder RPG Adventure Path: Hell's Rebels. A Song of Silver finds players striking back at the cruelties and oppression of the diabolical Lord-Mayor Barzillai Thrune, and the accompanying A Song of Silver SoundPack includes all of the sounds of the rebellion as it mobilizes in the streets. From rescuing old heroes from forgotten prison cells and reclaiming control of key locations, to performing an ancient song and the battle on the enormous Temple of Asmodeus, A Song of Silver comes alive with Syrinscape sound.
Included in the SoundPack:
A charming Naga with oozy friends
A nasty witch and her hellcat pets
Animated armor with Hellknight companions
A temple full of dangerous fanatics
An incredible sequence of cursed church bells
Burning buildings, Hell's Rebels music, growls, ghost drums, and so much more.
A Song of Silver SoundPack also includes sound samples recorded by Pathfinder fans at both PaizoCon 2015 and Gen Con 2015. Attendees of PaizoCon 2016, which kicks-off today in Seattle, WA, can become immortalized in a future Pathfinder SoundPack as the ferocious Ithanothaur dragon by visiting the Syrinscape booth at the show where a microphone will be set-up to record their mightiest roars.
Pathfinder RPG SoundPacks are available individually for $15.99, or as part of the ongoing Syrinscape Fantasy Subscription for $6.50/month, or as part of theSuperSyrin Subscription for $10/month a 60% savings. For a limited time, SuperSyrin subscribers will also receive a free protective drawstring pouch for mobile devices. The award-winning Syrinscape apps bring fantastic, realistic sound to tabletop gaming. Each is available to try for free, can be completely unlocked for free for 30 days at Syrinscape.com/freetrial, and includes 2 free SoundSets to keep after the trial.
To download the free Board Game Player, Sci-Fi Player, or Syrinscape Fantasy Player, visit Syrinscape.com.